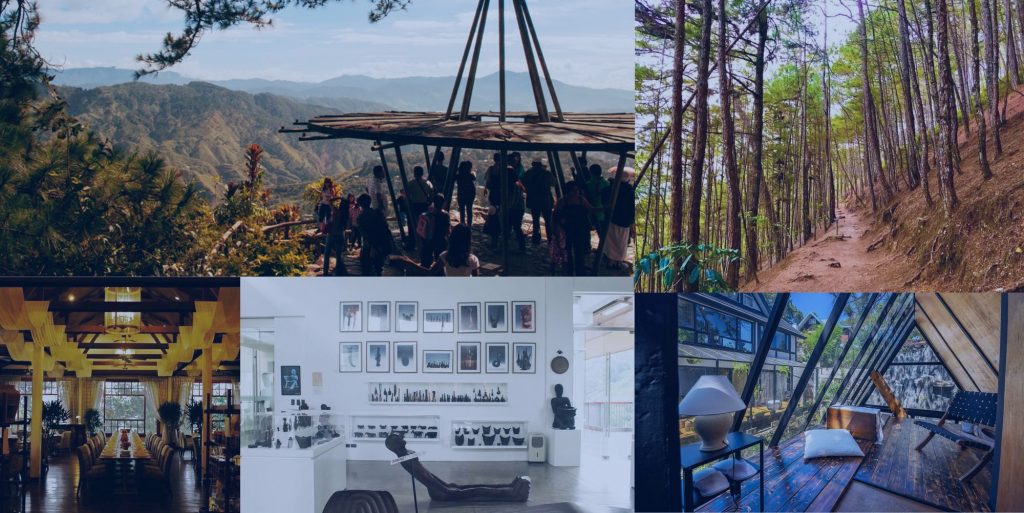 Baguio City: Philippines' summer capital. The city of pines and of cool breeze all year round. The place to refresh and unwind. The go-to of many for a short-haul escape from the bustling metro. From last week's webinar, Baguio guest speakers Engr. Mapalo and Mr. Galvez shared their highly recommended experiences in the city seeing as Baguio is now open to travelers coming in from Region I.
1. Staycation
With work and academic setup transitioning to homes, a break is necessary to re-differentiate work from leisure. Baguio offers a lifestyle away from the everyday, and closer to nature with an array of accommodation that are destinations already on their own such as Mines View Park Hotel. As of the moment, the city requires all visitors to stay in DOT-accredited accommodation. Visit https://philippines.travel/safeph for the list of DOT-accredited accommodation establishments.
The popular Twin Glass Treehouse is one of the several staycation houses at the Tudor in the Pines. The treehouse rises 30 feet from the ground, accessible through a hanging bridge, and has views of the fresh pine trees, making it the common ground for relaxation seekers and adventurers alike.
2. Unique Dining
The city's restaurants involve innovative takes on dining experience, which everyone can recall about Baguio such as dining alfresco overlooking foggy mountains or having Strawberry Sinigang for lunch.
Engr. Mapalo recommends Hill Station—a fine-dining restaurant at the Upper Session Road serving round the globe cuisines in a log-cabin interior, overlooking greens. It is by far the favorite of visitors among all the restaurants in Baguio for its quality servings paired with an ambience that is remarkably Baguio.
3. Forest Bathing
Post-pandemic travels are mostly about breathing in some fresh air and achieving wellness through nature. Forest bathing is an emerging tourist attraction in Baguio, taking inspiration from Japan's Shinrin-yoku a natural therapy in the form of a forest leisurely walk.
Engr. Mapalo and Mr. Galvez suggest forest bathing programs at Camp John Hay for its 3.8 trail of forest, which guarantees to gain wellness, restore vitality, refresh and rejuvenate. Unlike other activities, forest bathing is only for a small number of participants to preserve its meditative nature.
4. Visiting Parks
Baguio is dotted with nature and parks all over. There's Burnham Park, Mt. Pulag National Park, Baguio Botanical Garden and more, but Mr. Galvez mentions Mines View Park as one of his recommendations in Baguio. Mines View Park is on a ridge which also serves as a viewing deck overlooking gold and copper mines and Cordillera mountains, ideal for everyone to unwind and appreciate the cool temperature.
5. Learning Culture and Arts
In 2017, Baguio was designated as UNESCO Creative City for its sustainable and inclusive development in culture and creative industries. The city is home to a variety of museums and villages dedicated to exhibit local artistry such as BenCab Museum, Tam-awan Village and Museo Kordilyera to name a few. There are also arts and crafts stores that can be found everywhere, selling local souvenirs and silver crafts.
Also, launching this November is Baguio's Creative City Festival, which is a platform for showcasing folk arts, craft and other artworks in the city. Visit http://creativebaguio.com/ for more details and creative events and activities.
Visitors can assure their safety in the aforementioned places and activities, as these have already proven strict compliance with the regulations imposed by the local tourism office. With rigorous planning and training together with the Department of Health, local travel agencies and other businesses, Baguio reassures the safety of all travelers. To learn more about the reopening of Baguio tourism, registration at VIS.I.T.A digital platform, new normal travel process and more, read our previous blog. Baguio is ready when you are.
Sunlight Air is one with the LGU of Baguio and the Department of Tourism in promoting local destinations. Subscribe to our newsletter for more updates regarding local travels and more.