Discounted all-inclusive 4D3N & 5D4N travel bubble packages at Sunlight Ecotourism Island Resort exclusively for FoodPanda's pandapro members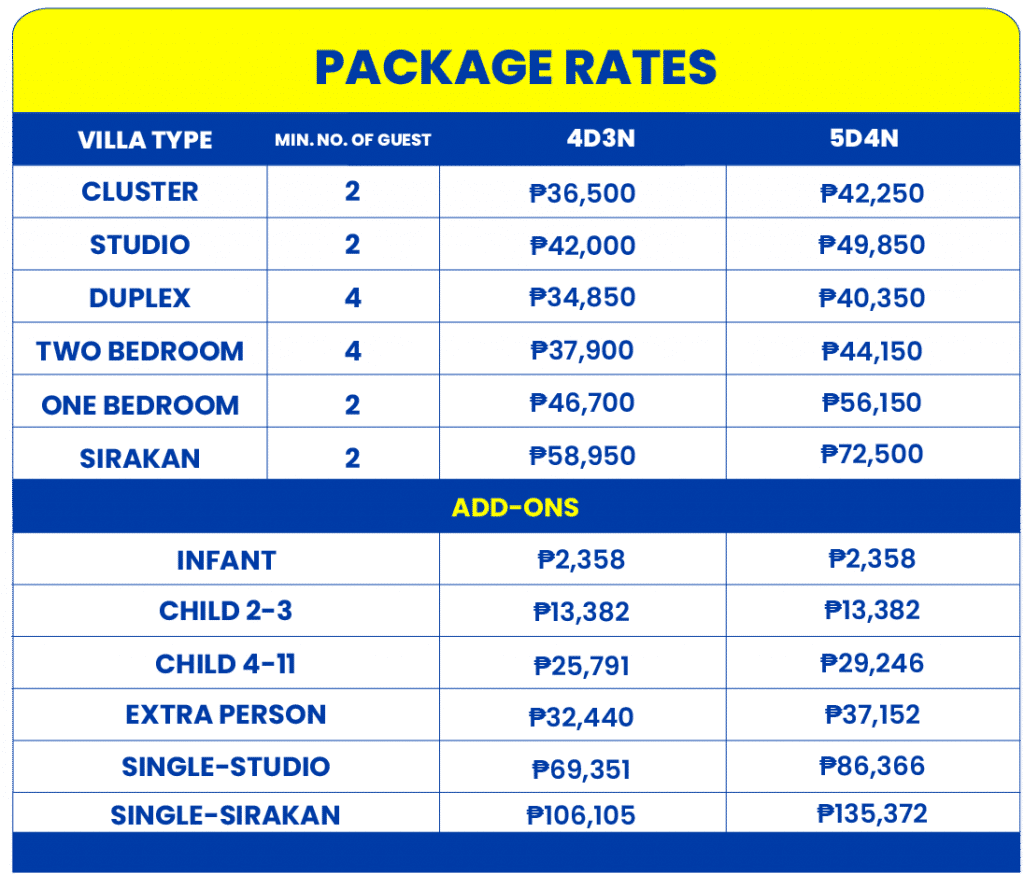 *Package rates are per person and are exclusively for Panda Pro members only
INCLUSIONS
4D3N or 5D4N accommodation at Sunlight Ecotourism Island Resort's Maldives-esque water villas
Daily breakfast
Roundtrip shared charter flight via Sunlight Air
Roundtrip land and boat transfers from Busuanga Airport to SETIR and vice versa
Private use of Manila and Busuanga lounge
Pastries and coffee at Sunlight Air's Manila lounge
Premium sanitation kit and bottled water in-flight
10kg check-in baggage and 7kg hand-carry baggage (up to 2 pieces)
One-time dinner by the beach for adults
Fresh welcome drinks
Complimentary use of non-motorized activities such as regular kayak, paddleboard, and bicycle
Complimentary use of fishing rods
Complimentary guided snorkeling tour (First-come, first-served basis, by schedule)
Use of infinity pool
Use of SETIR's 3 beaches
Vat, service charge, and terminal fees
TERMS & CONDITIONS
Sale Period: March 15 – 17, 2022
Travel Period: March 15, 2022 – August 31, 2022
Discounted all-inclusive 4D3N & 5D4N travel bubble packages at Sunlight Ecotourism Island Resort exclusively for FoodPanda's pandapro members.
Promo shall only apply to bookings under Sunlight Air's booking form or via Asia Pacific Travel and Sunlight Ecotourism Island Resort.
Promo cannot be applied or combined with other travel packages or promotions.
A proof of pandapro membership must be presented upon booking.
All seats and rooms are subject to availability.
Full payment shall be settled upon confirmation of reservation. Failure to finalize payment shall result in the cancellation of the reservation.
During the regular season, all packages are rebookable up to 3x, valid for 1 year from the date of purchase. For peak seasons, only 1 rebooking is allowed and must be made 30 days prior to the confirmed date of travel.
All packages are non-refundable but rebookable. Rebooking must be done 15 days prior to the date of flight. The penalty applies if less than 15 days' notice. Unless rebooking is done for medical or emergency reasons.
Rebooking fee of P2,500 will apply if one segment or leg is flown.
Name change is allowed 15 days prior to the departure date. Beyond that, P1,500 fee will apply.
Peak dates are subject to holiday rates.
Terms and conditions may vary in compliance with the rules and regulations of Sunlight Air, SETIR, and LGU governing the accommodation's establishment.
Flights are unscheduled and are not commercial. Flights are chartered by Sunlight Air's official travel partner, Asia Pacific Travel. Only specific travel dates and limited seats are allotted for this promo.
NOT A PANDAPRO MEMBER YET?
Here's how to join Pandapro:
1. Download the foodpanda app & open the app, refer to the entry point to enrolment through side drawer (left side of the app).
2. Click 'pro subscription' and drop down of benefits and perks will be listed
3. Choose your desired pandapro plan (1 month, 6 months of 12 months)
3. Enroll your chosen credit or debit card to the desired pandapro plan
4. Pandapro plan subscription will be acknowledged on the foodpanda homescreen
Enjoy your pandapro perks and rewards!