An Introvert's Adventures: Camiguin: Growing up, I never really saw myself as the type to travel to different places, whether it's here in the Philippines or to different countries entirely. But as life went on and I grew up, time has only made me wiser and I realized that no person can ever really stay in the same place for their entire life. Even if we don't realize it, the thrill and craving for adventure will always remain with us, making us eager to see new sights and make new memories in new destinations. Thus, with this realization, my eyes were opened to the joys of traveling and I came to realize that I do want to visit different places, either on my own or with my friends and family. Luckily enough, my employers at Sunlight Air offered me the chance to visit a place I've never even considered visiting before and that was the warm and sunny shores of the so-called "Island Born of Fire", Camiguin.
Camiguin: The New Frontier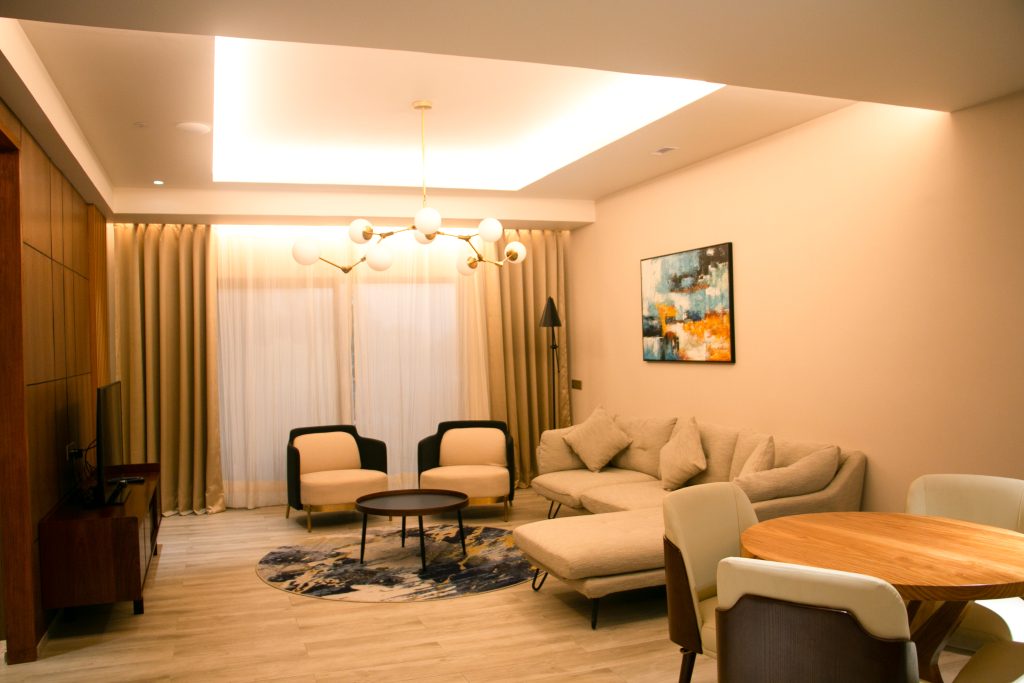 At first glance, Camiguin may not seem like a place with plenty to offer, whether it's in terms of food, accommodations, or tourist spots to see. It is, after all, the second smallest province in the country. However, as we began our descent into the airport runway of this small, quaint island province and saw how beautiful Camiguin is from the sunny skies, I knew right away that our visit to this lesser-known Philippine vacation spot, even if it is for work purposes, would be more than worth it. As it was Sunlight Air's inaugural flight to Camiguin the day we arrived, we were warmly welcomed by the LGU before heading to our accommodations at the elegant and luxurious Nouveau Resort. Here, not only were we once again treated to a warm welcome and an informative tour about our lodgings that remind guests so much of home (a very costly home but home nonetheless), but we were also treated to an exquisite meal. There, I finally got to try the famous Lechon de Camiguin, which I had only heard about through reputation until now. A succulent, juicy pig with tender and flavorful meat, it was a meal that left us wanting for more and one that is definitely a must-try for anyone paying the island province a visit.
The Adventure Begins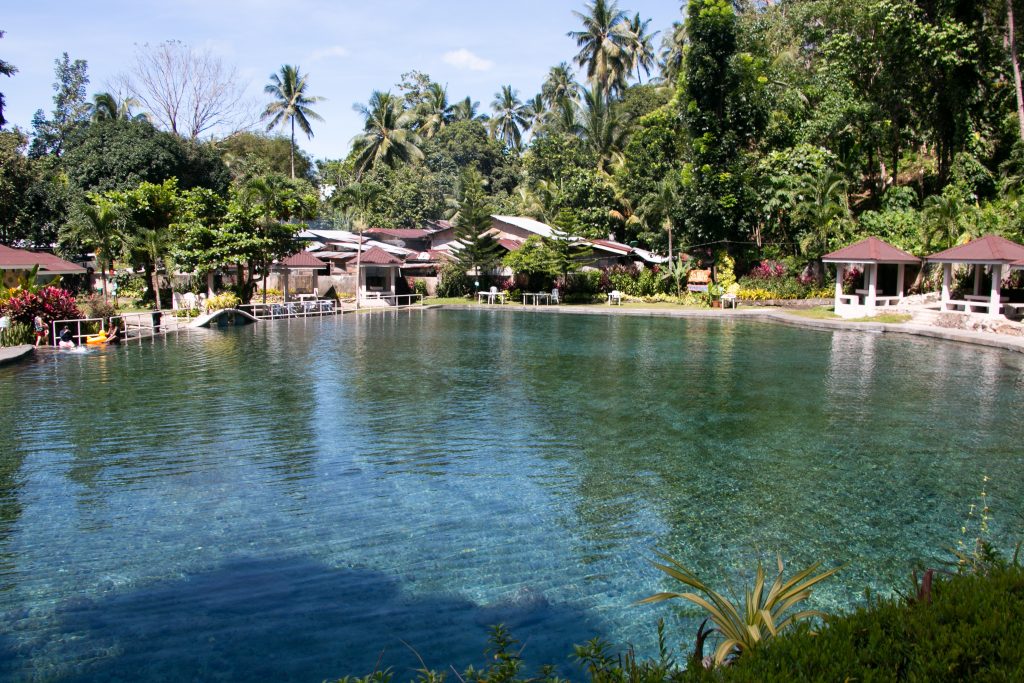 Our island adventure in Camiguin well and truly began on our second day and inarguably, it was the most tiring day of our four day, three night stay in the province. Of course, this was all within good reason as our day was packed with activities, the goal being to visit as many of Camiguin's famed tourist spots as possible. For our first stop, we visited White Island, a sandbar located just off the shore of the Camiguin mainland and accessible through a six-minute boat ride. While admittedly, there's nothing much to see in White Island, its surrounding waters are still cool and refreshing, making it the perfect locale if you want to take a dip in the ocean. Plus, with the Camiguin mainland as its backdrop, it's also a good place to hold an impromptu photoshoot. If one is lucky, you can also catch a few vendors within the island, peddling fresh sea urchin as a snack in exchange for a small fee. Unfortunately, I was not so lucky as I failed to chance upon such a vendor before we had to return and much to my disappointment (and honestly, small relief), the opportunity to taste such an exotic food item slipped through my fingers.
Upon leaving White Island, the next destination on our list is the Sto. Nino Cold Spring. Now, I'll admit; when I was doing my research on Camiguin before our departure, I was surprised to hear that such a thing as a cold spring even existed, especially on an island full of volcanoes. But I (as well as my co-workers and the travel agents that came with us) was totally blown away when I took a dip in the spring's waters myself; the water was freezing but surprisingly enough, it was equally relaxing as well. Indeed, as soon as I immersed myself in the spring, I felt all the stresses of the past few weeks and the heat from the day's sun wash away from my body and I realized then and there that the spring is the perfect watering hole to take a refreshing dip in during the summer season.
During our time at the Sto. Nino Cold Spring, I was also able to partake in two Camiguin dishes that I've read so much about. The first is the sweet snack known as Kiping, a plate-like wafer dish made of cassava and sprinkled with a coconut sauce known as latik. The second dish was the one that surprised me the most as I genuinely did not expect that I would enjoy it so much. That dish is known as Surol, a dish consisting of native chicken, coconut milk, and various herbs and spices. Bursting with flavors that I've long taken a liking to, I didn't even mind the fact that it was stewed in coconut milk to be cooked. However, sadly, owing to the fact that we weren't served the spicy variant of the dish, while fulfilling over all, it also made it feel as if our first experience with surol was somewhat lacking.
Once we had our fill of the delicious lunch arranged for us by our helpful tour guides, our group of adventurers moved on to the next places on our list; Tuasan Falls and the Bura Soda Water Park. Like every natural wonder in Camiguin, Tuasan Falls was a sight to behold with its cool and clean waters and the surrounding vegetation. It was just a shame that we weren't able to spend as much time as we wanted to since we were running on a tight schedule. However, the lost opportunity to enjoy the waters of Tuasan were swiftly more than made up for by our trip to the Bura Soda Water Park. While its waters weren't as cool as the Sto. Nino Cold Spring is, its deep pools were still a good place to relax and decompress after a long day of traveling from place to place. Here, we were also able to sample Camiguin's famed soda water for ourselves and needless to say, it didn't disappoint. Not only was the water fresh but it also had a fizzy taste that allowed it to live up to its name of "soda water". Truly, a novelty that no adventurer should avoid should they decide to pay Camiguin a visit.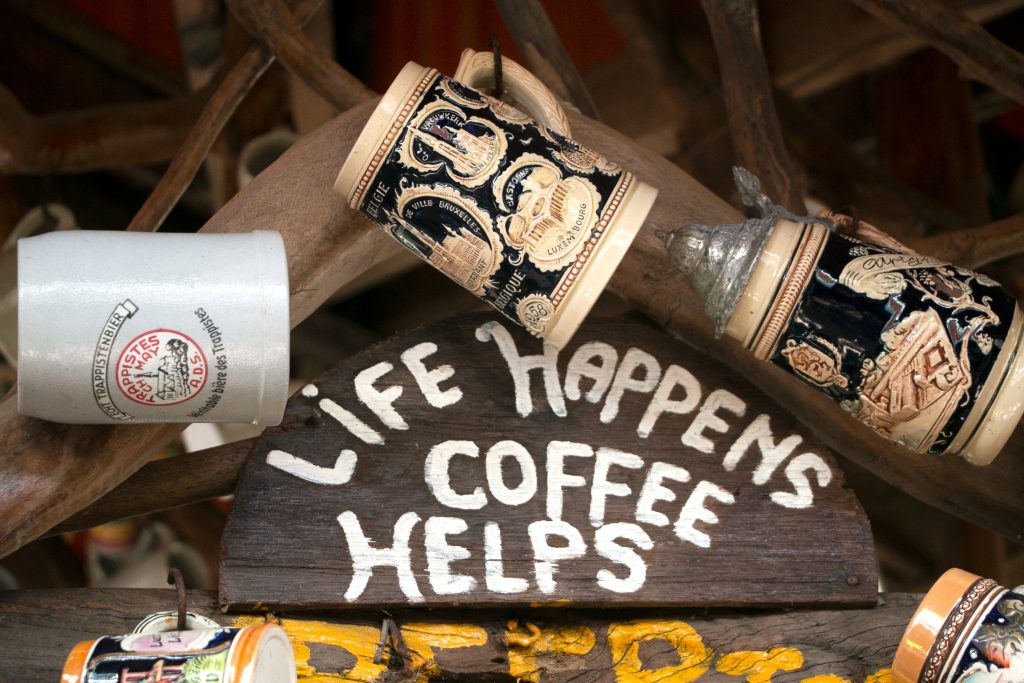 After our trip to the Bura Soda Water Park, we paid one of Camiguin's lesser-known eateries a visit; The Beehive Camiguin Driftwood Cafe. Owned by a Belgian national who married a Filipina woman and currently operated by an assistant in their absence, it's a cafe that is not only eye-catching due to its beehive themed exterior but also a great place to visit if you're looking for a spot around Camiguin to sit down, have some peace and quiet, and a nice hot Cup of Joe before moving on to your next tourist site. As you explore the cafe, you can also see from its surroundings just what kind of life the owner had. From the wide range of decorative beer tankards brought over from various parts of Germany to the old cameras artfully placed around the cafe, from the pictures and tea sets placed on shelves to the Royal Enfield motorcycle parked just a few feet away from the counter, The Beehive Camiguin Driftwood Cafe is not just a quiet eatery to visit and dine in; it's also a time travel machine that both staff and patrons alike can access. And if that isn't enough, they also serve a wide variety of delicious afternoon snacks such as waffles, burgers, lumpiang shanghai, cookies, ice cream, and of course, their delicious coffee made from their very own Tres Marias Coffee. With such a quiet and calm ambiance and fulfilling meals (and even plenty of adorable dogs in the premises to keep you company), The Beehive Camiguin Driftwood Cafe is definitely one of Camiguin's hidden gems that need to be discovered by more travelers from far and wide.
Camiguin at Night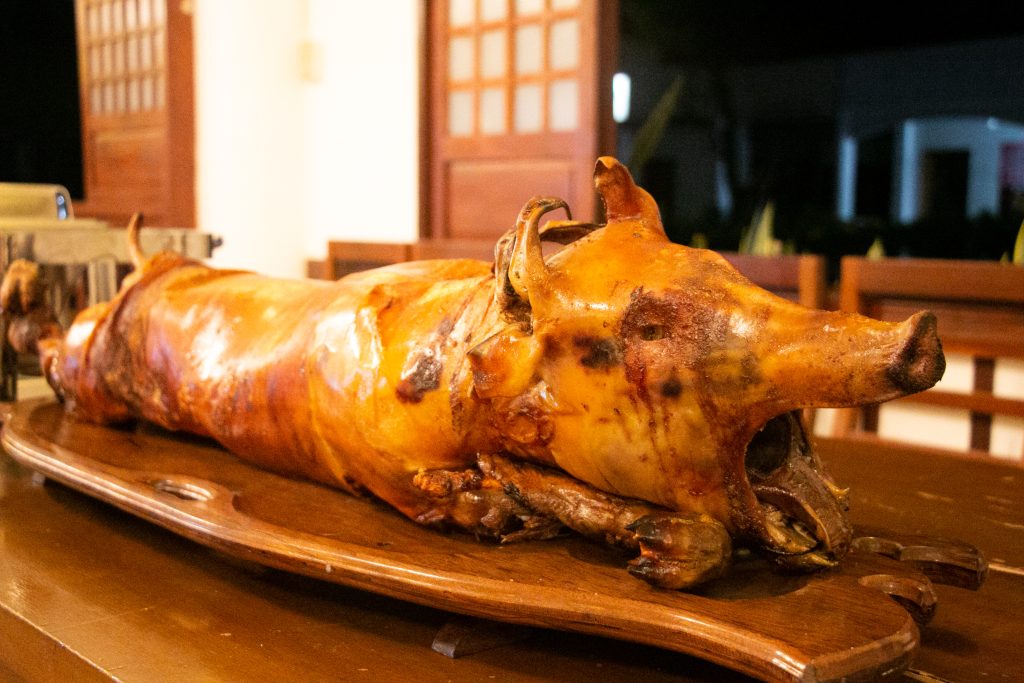 Once we made it back to our accommodations after our visit to the cafe and the Tangub View Deck for a photography session, we were given a brief respite at our resort before dinner. Unlike the previous night, our next Camiguin dining experience wasn't held at the Nouveau Resort itself but instead, we were to dine at one of Camiguin's famed restaurants; Pedro's. Here, we were once again treated to the usual Filipino fare such as rice, vegetables, lumpiang shanghai, and of course, the ever-so-delicious Lechon de Camiguin. It was our dining experience at Pedro's that solidified the superiority of Camiguin's take on lechon for me thanks to its slightly saltier skin and flavorful meat. Much to my shock and amazement, two of my companions actually agreed with me on my assessment of which roast pig is the superior pig. At the end of the meal, we were also given the opportunity to take home a food item that I had never even heard of until that night: dry and crumbly shortbread cookies known as Masa Podrida. Don't be fooled by its dry and crumbly characteristics though; despite such textures, Masa Podridas are delicious cookies, making them a satisfying dessert after a hearty meal.
Of course, the abundance of delicious food wasn't the only highlight of the night. In fact, it was on our journey to Pedro's that I was able to see what Camiguin was like once the sun is down for the day. Before our arrival in Camiguin, I honestly expected its nightlife to be similar to any city around the Philippines. A bit quieter than most but still a bit lively with people walking the streets, karaoke sessions in some of the eateries, and roads littered with lamp posts nonetheless. However, on our way to Pedro's, I was shown a different side to Camiguin and honestly, it was actually a side that I took delight in. Instead of streets lit by lamp posts, we traversed a highway that was pitch-black and quiet with the only sources of light being the ones from the few houses littered along the highway and in lieu of a lively and energetic city center, we were greeted by a quiet plaza upon our arrival at Pedro's Restaurant in Mambajao. Maybe it's the city girl in me and maybe we were just in the quieter parts of Camiguin's capital city, but there was something just relaxing and calming about that area of Mambajao at night, with hardly anyone but my group around to enjoy a peaceful dinner in the warmth and hospitality of one of Camiguin's best dining establishments.
Shiny Days in Camiguin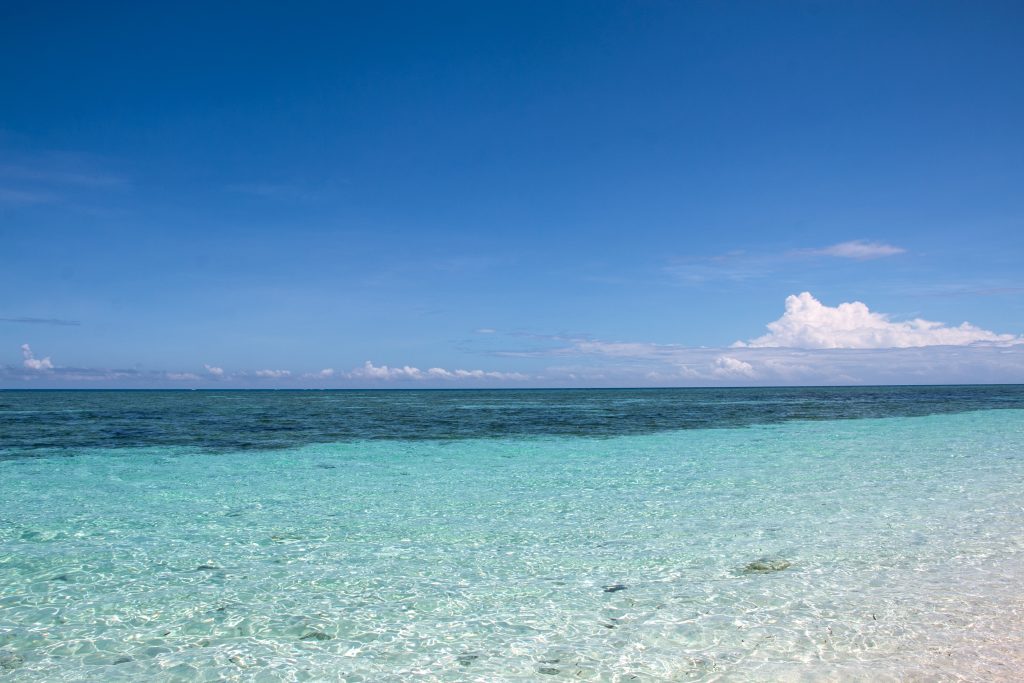 Compared to the day prior, our itinerary for our third day in Camiguin wasn't as packed with activities. But despite the seemingly easy day we had ahead of us, I could tell that it wasn't going to be any less exciting than the previous days had been. Our first stop for the day was another one of Camiguin's most famous tourist attractions known as Mantigue Island, a nature reserve just a twenty-minute boat ride away from the Camiguin mainland. Surrounded by cool and crystalline waters, you won't be just given an ample opportunity to swim in the clean and clear ocean but if you're lucky, you might also be able to see some new critters on the island as you explore it.
During our stay in Mantigue Island, I took the time to explore the locale on my own, eager to see what it is about Mantigue that makes it so special to the island province. As I continued to walk under the hot, midday sun, I gradually began to see just what it was that made Mantigue Island so attractive to visitors apart from its abundance in nature and exotic creatures; once I reached the other side of the island where it was quieter, I was once again awestruck by the nearly uninterrupted view of the ocean and the horizon as well as the eternal blue sky that loomed above us. For a few minutes, I couldn't help but simply stand there, just reveling in the cool ocean breeze and the magnificent view that lay before me, grateful for the opportunity to enjoy the wonders of nature in the peace and quiet of Mantigue Island.
After a hearty lunch at Mantigue Island composed of various seafood dishes such as kinilaw and shrimp, we experienced a slight change of plans in the itinerary. While initially, we had intended to return to Nouveau Resort immediately after Mantigue Island for a long respite, one of the travel agency owners requested that we visit another Camiguin locale known as Katibawasan Falls. Upon our arrival at the falls, we immediately dipped our toes in the stream it created. The water was just as cool and clean as the Sto. Nino Cold Springs. Much to everyone's disappointment, we weren't able to stay long at the falls due to our tight schedule and with a new experience in our belts, we made our way back to the resort for some much-needed rest before continuing our journey.
Transience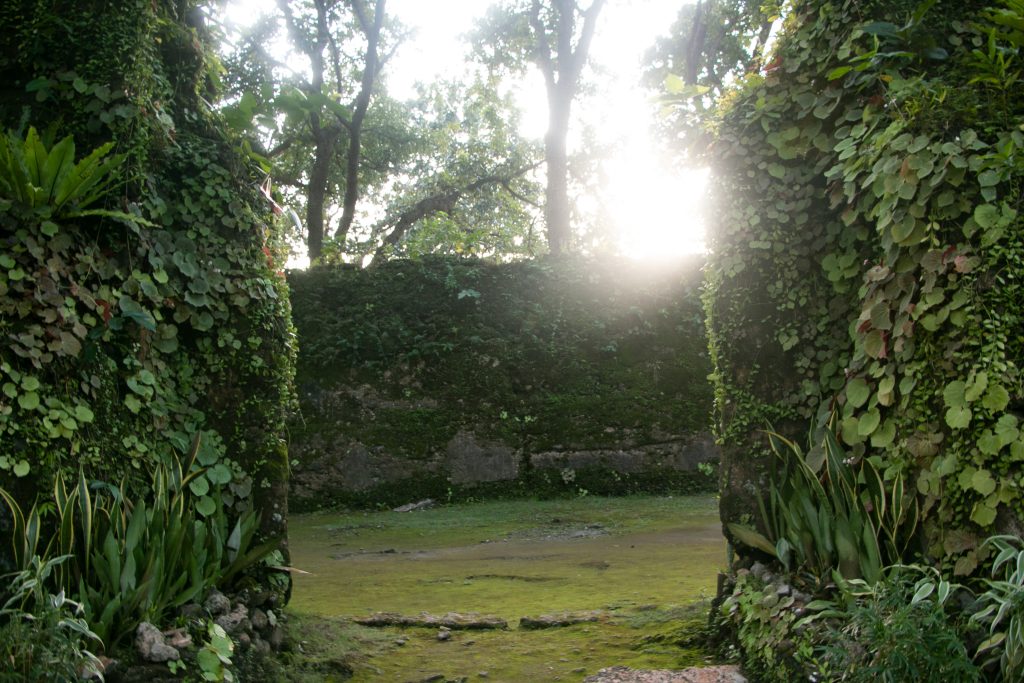 Once our hour-long respite at our lodgings was over, it was time for us to move on to the next locations in our itinerary. If I'm to be honest, they were places that the history buff in me has been looking forward to visiting ever since I was told that I was going to be shipped off to Camiguin to gather material for my employers. Those places were the Guiob Church Ruins and Sunken Cemetery in Catarman. When we arrived at the Church Ruins, much to my surprise, not many people were visiting and those that were there were already on their way out, having had their fill of the local history for one day. As I walked around the ruins taking photographs and videos, I couldn't help but imagine what the church must've been like in the 1800s, before the nearby Mt. Vulcan destroyed it and left only its stone walls standing. For a moment, in my mind's eye, I saw a mighty and towering house of God, filled to the brim with worshippers and devotees before going about their day. "It must have been a sight to behold for its time", I thought and for a moment, I was saddened at how quickly it must have been destroyed during that fateful day in 1871. But as the new wave of visitors came in just as we were about to leave, it gladdened my heart to know that, despite the fact that it's nothing more than a few feet of ruined and moss-covered stone, the Guiob Church Ruins are still appreciated and will continue to be appreciated for years to come by visitors eager to learn more about Camiguin's history.
Only a few feet away from the entrance of the Guiob Church Ruins is the path that leads to Camiguin's famed Sunken Cemetery, which went down into the sea when Mt. Vulcan's eruption destroyed a huge chunk of the city of Catarman in 1871 (yes, the very same eruption that destroyed Guiob Church). A tourist spot unlike any other around the Philippines, I was always looking forward to going on a quick dive around the Sunken Cemetery to see its marine life and whatever tombs were remaining for myself while taking some underwater shots as material. Unfortunately, again, due to time constraints, we weren't able to take a dip in the Sunken Cemetery for ourselves and instead, our intrepid group of adventurers settled on the deck for an exquisite view of the Camiguin sunset while taking photos of the cross from afar.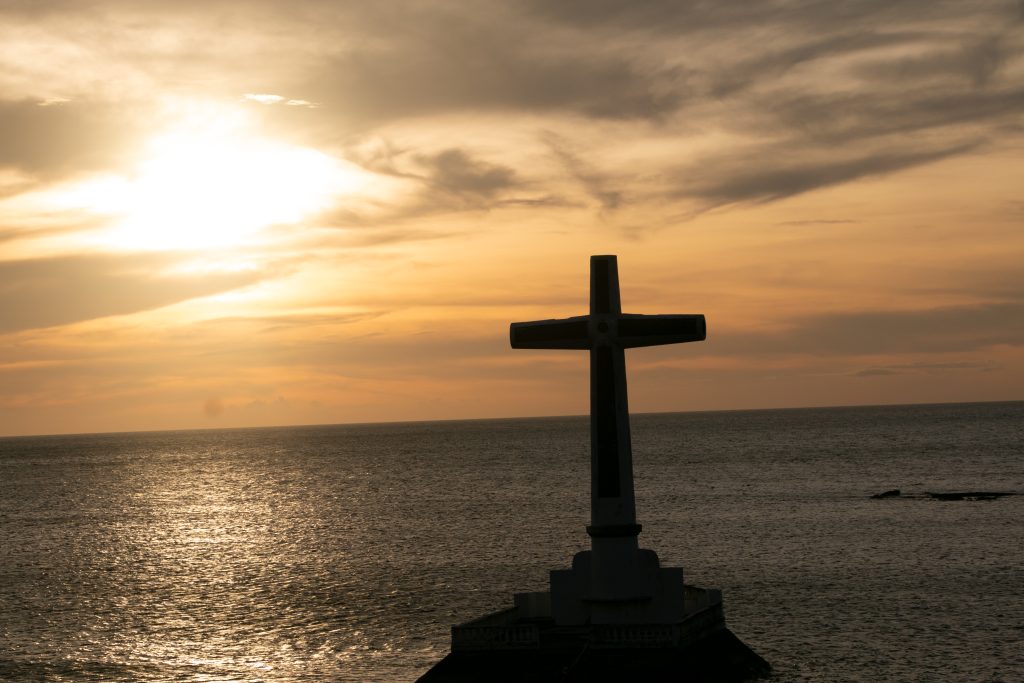 But as I stared out into the horizon with my camera and watched the sunset behind the massive cross erected in the middle of the ocean to commemorate the souls buried at the sunken cemetery of Catarman, I couldn't help but return my thoughts to the Guiob Church Ruins and draw parallels between it and our lives; once high and mighty and always aiming to reach the skies but, in the end, fleeting, transient, and ultimately powerless against the ravages of both time and nature with nothing but a few plaques and gravestones as a testament to the fact that we were even here, to begin with.
A Taste of Italy in Camiguin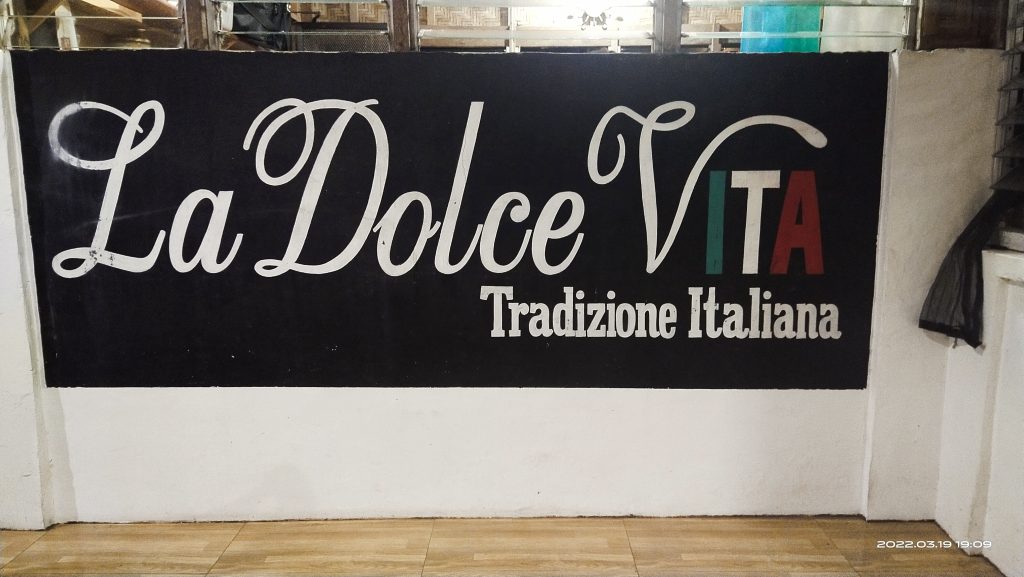 Upon completing our period of self-reflection (and fridge magnet shopping, in my case) at the Sunken Cemetery, we moved on to the next and last item in our Camiguin itinerary for the day and that is an early dinner at the restaurant and cafe known as La Dolce Vita. Owned by Italian chef Alessandro Cucchi, the food is as authentically Italian as you can get in Camiguin. From the salads to the pasta dishes, from the appetizers to the pizza that they serve, La Dolce Vita is a must-go-to restaurant for anyone who's craving a taste of Italy during their stay in Camiguin. To my delight, I was also able to score an interview with Signore Cucchi about the restaurant, its history, and his life in Camiguin which I will be covering on a different blog entirely so please stay tuned and be on the lookout for a new blog on Camiguin's very own La Dolce Vita Italian Restaurant and Cafe.
The Voyage Home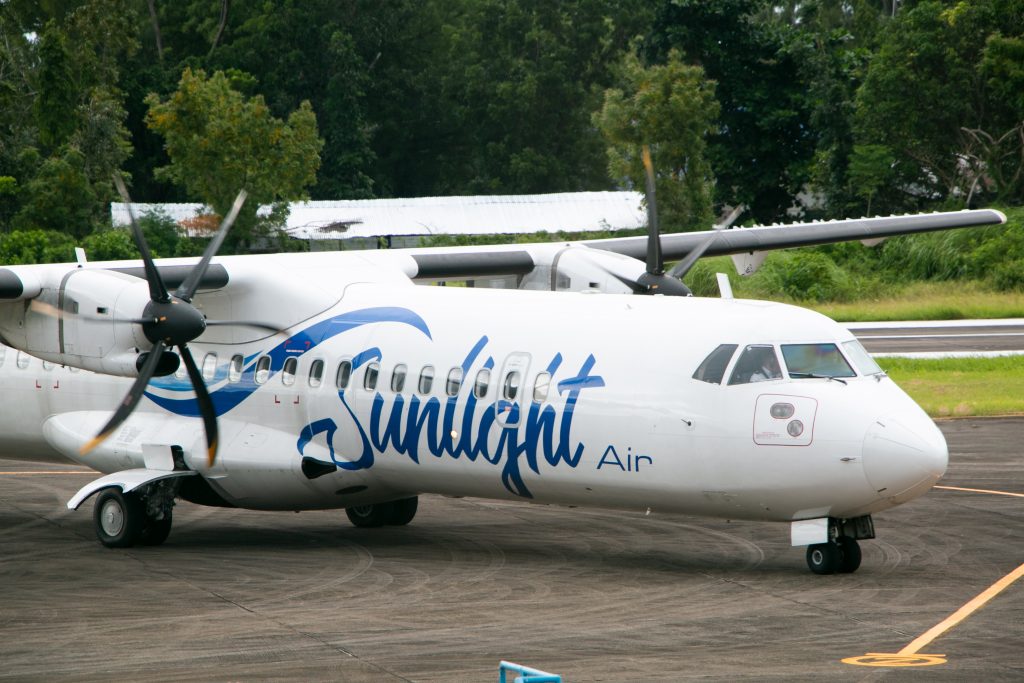 For the final day in Camiguin, the morning was dedicated to enjoying the resort for the last time while packing our things for the journey home. In the morning, after a hearty breakfast at the resort's restaurant, we can now enjoy the pool for the last time and just relax and take a break before going to the airport for the return flight to Manila…
At least, that's what I would say if I wasn't in Camiguin for work.
While we were indeed afforded some time to take one final dip in the magnificent and refreshing pool of Nouveau Resort, there's still some work to be done before going home. What can I say? There ain't no rest for the wicked. Luckily enough, our work for the day simply involved visiting our other partner resorts in Camiguin such as Balai sa Bai Bai, Paras Beach Resort, and Camiguin Volcan Beach Eco Retreat and Dive Resort. The goal: take photos and learn more about their future plans for their operations, both of which were easily done within 15 minutes, allowing us to buy a few boxes of pastel at the Vjandep bakeshop before having lunch back at the resort.
And so came the end of our Camiguin journey. By 3 PM, we had boarded the plane heading back to Manila after an hour-long wait and we were well on our way home within a few minutes. But as we flew under the sunny, Philippine skies, I couldn't help but smile as I reflected on the four days we stayed there as I looked out the plane window. Sure, we were dead on our feet by the time we got on the plane but the memories we made during our first time visit to the Island Born of Fire were certainly ones that we'll cherish for a long, long time. And as Camiguin slowly became a far-off land behind our plane, I found myself realizing that it was a place that I wouldn't mind visiting again someday, either on my own (like the introvert I am) or with my family and friends (because I do have a semblance of a social life, believe it or not). With a new experience under my belt, I smiled and settled in my seat.
See you again someday soon, Camiguin.

Read my next blog. 🙂