8 Must-Visit Places in Camiguin, famously labeled as the "The Island Born of Fire," thanks to the seven (yes, seven) volcanoes that helped its formation, is one of the best vacation destinations that the Philippines has to offer. Tourists, both international and local, flock to its shores just to get a taste of the paradise that they can experience within the island. And luckily enough, despite being the second smallest province in the country, it still has an abundance of places to visit and sights to see, accompanied by various activities to do.
Here are the eight places that visitors must absolutely put on their bucket list.
1. White Island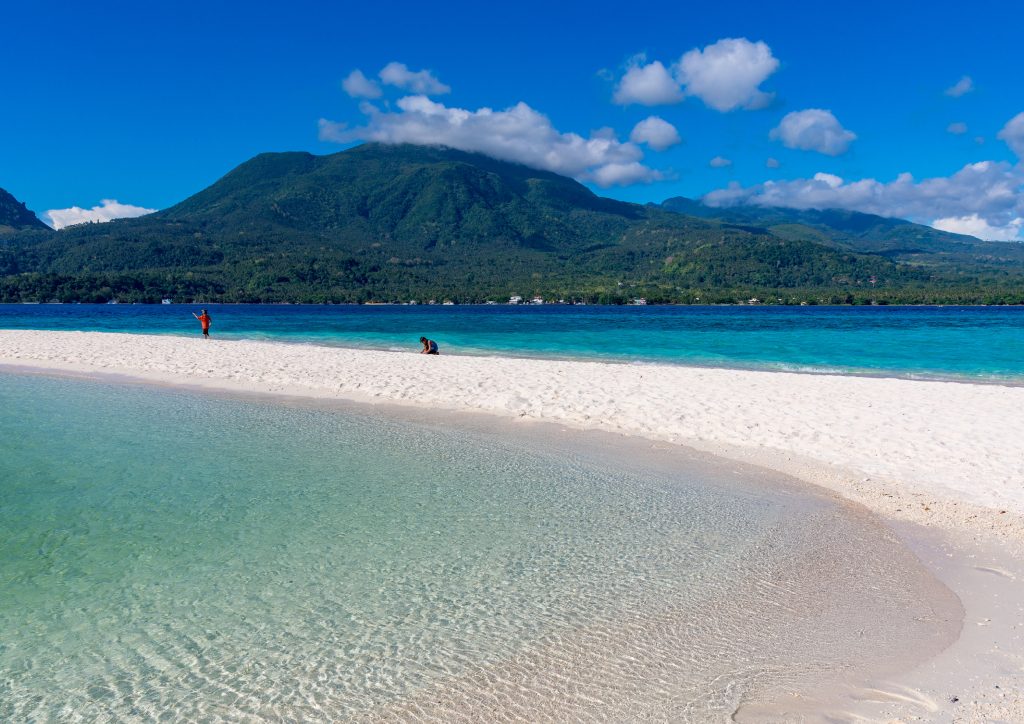 For those who are looking to start their Camiguin adventure off with a dip in the ocean and some snorkeling to see the province's abundance of marine life, then one locale that visitors should definitely visit is White Island. As its name implies, it's a fairly long sandbar (1.4 km), accessible through a 7-minute boat ride from the Camiguin mainland. Once visitors arrive at the island, they'll be provided with an umbrella and a designated spot fit for 10 people where they can leave their things and enjoy beach activities such as beach volleyball or sunbathing before they go for a swim. And if the abundance of activity isn't enough, if you're lucky, you might just catch the locals that sell 3 pieces of sea urchins for the incredibly low price of 150 pesos to visitors who want to experience the freshly caught seafood of Camiguin. 
2. Sunken Cemetery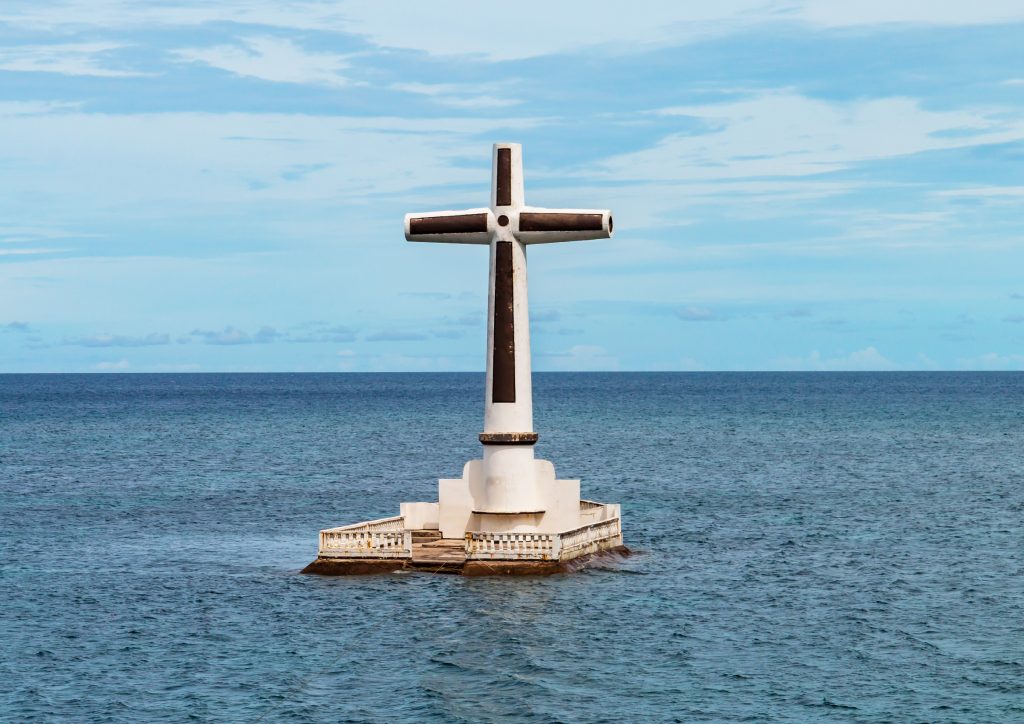 In the 1870s, Camiguin's Mt. Vulcan Daan erupted quite violently, destroying a portion of the municipality of Catarman and causing its cemetery to sink, which in turn created an eerie yet unique tourist attraction that should be experienced at least once in a person's lifetime. Now known as the Sunken Cemetery, the area is commemorated by a large floating cross and as time went by, the sunken tombs allowed corals to grow and marine life to flourish, making it a good spot to visit for an afternoon of snorkeling.
3. Bura Soda Water Park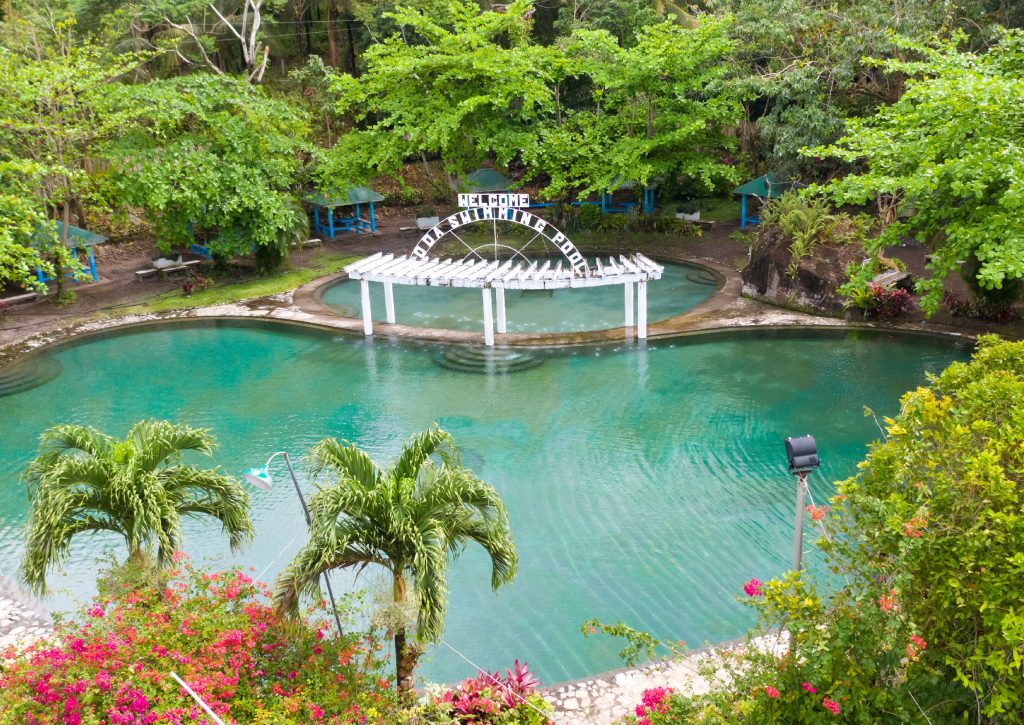 In Japan, there's a spa where guests can bathe in tubs filled with green tea, red wine, sake, or even coffee. Believe it or not, Camiguin has a locale that comes close to such a destination and that's the Bura Soda Water Park. According to the locals, the natural water in the pool has a fizzy taste that's akin to soda, hence the name. Of course, for a small fee, guests are free to swim in the soda pool and even drink from it for a unique experience but if you're not so hot on the idea of drinking water straight from the pool, visitors can visit the nearby open fountain and taste the spring's fizzy waters from there instead.
4. Sto. Nino Cold Spring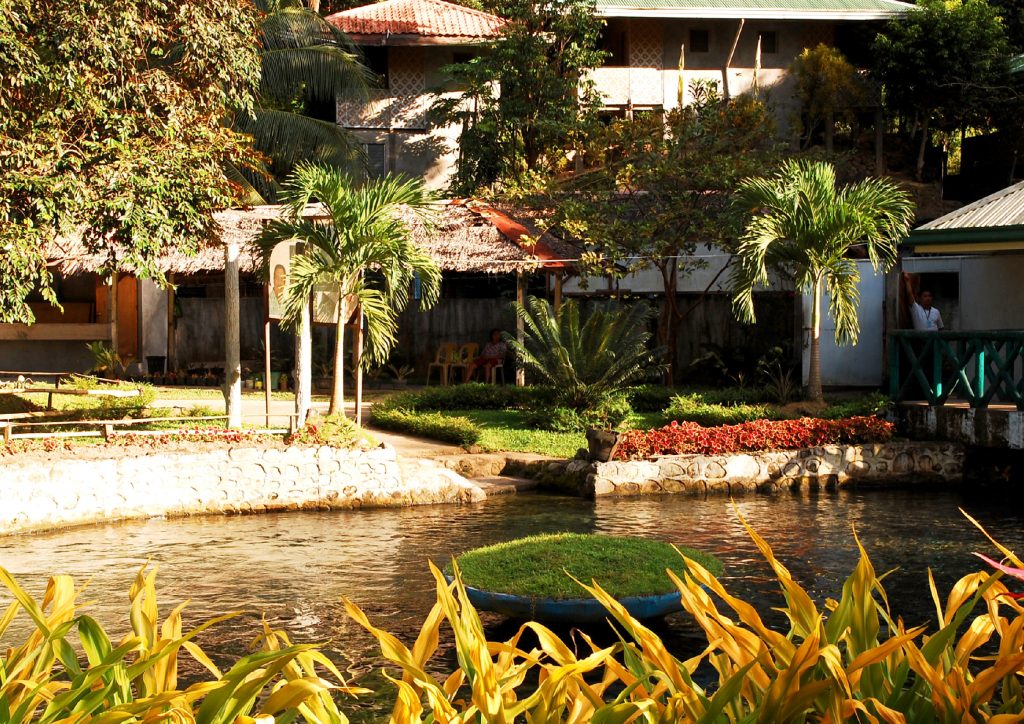 The Philippines has plenty of hot springs in Luzon alone and for an island like Camiguin, which has a whopping seven volcanoes, you'd expect the province to have hot springs as well. As expected, the island does indeed have a hot spring but did you know that Camiguin has a cold spring as well? 
Well, now you do!
With lush vegetation surrounding the venue and cool waters that come from a natural source deep underground, this locale is one that you shouldn't sleep on if you want a cool and refreshing dip.
5. Mantigue Island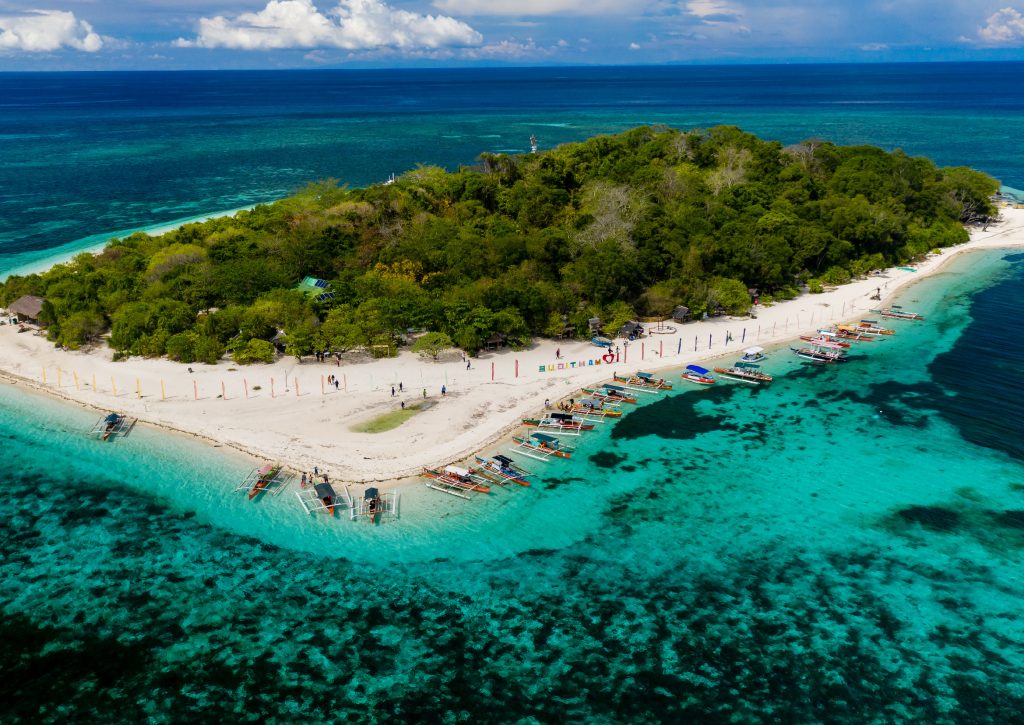 Apart from snorkeling in the ocean and swimming in cold springs and soda pools, tourists paying Camiguin a visit can also add Mantigue Island to their bucket list. Unlike the plain white sands of White Island, Mantigue Island is a government-protected nature reserve that houses birds, monkeys, and lizards. This means that whether you choose to take a swim in the island or simply hop on a glass boat to view Mantigue's marine life, you'll be able to enjoy the wonders and beauty of nature as you go.
6. Old Church Ruins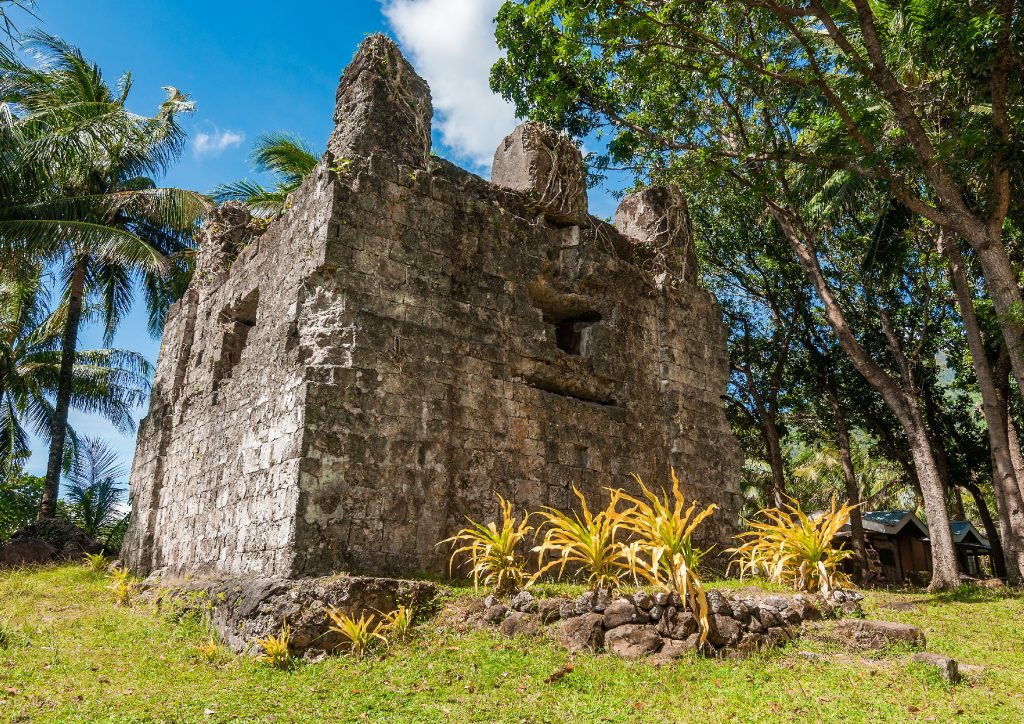 For the history buffs visiting Camiguin, they're also more than free to visit the Old Church Ruins to learn more about Mt. Vulcan Daan's eruption in the site that is now called "The Old Church Ruins" was once known as Guiob Church and was built in 1623. Unfortunately, after a mere two centuries after its construction, Mt. Vulcan Daan violently erupted in the 1870s, resulting in its destruction. As such, for the history buffs visiting Camiguin, they're also more than free to visit the Old Church Ruins to learn more about this monumental event in Camiguin's history. Also known as the Guiob Church Ruins, it's an interesting site to visit for those who want to see a few relics of a bygone era such as the walls of the old church, the bell tower, and the convent.
7. Tuasan Falls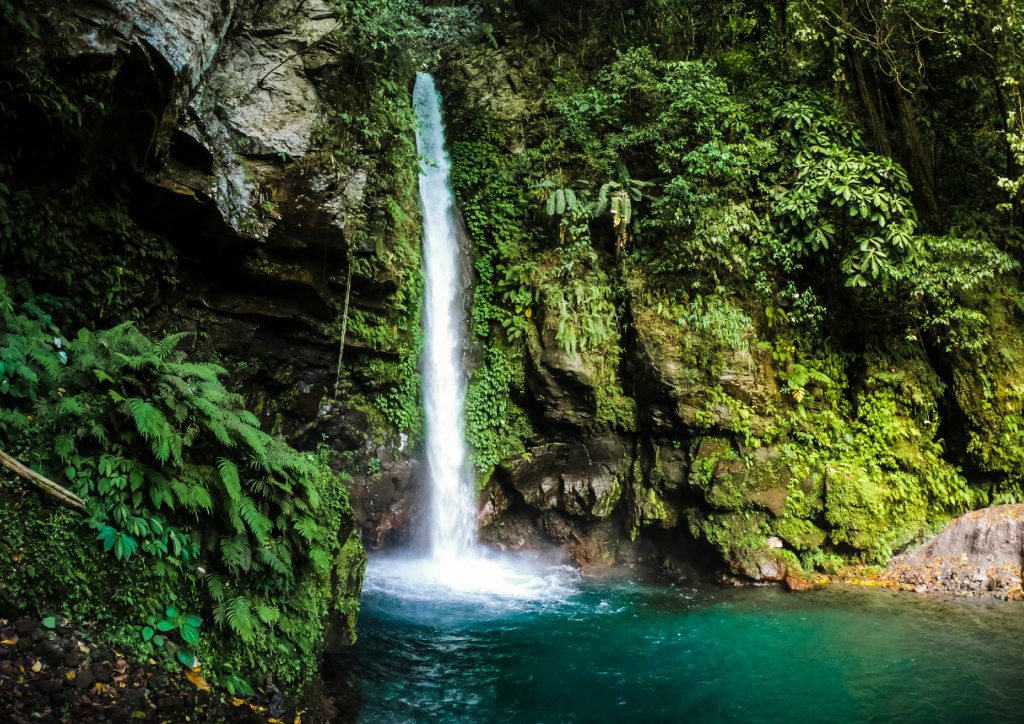 On the other hand, for a more ethereal experience tucked deep into the unspoiled jungle, the Tuasan Falls is another locale that tourists shouldn't ignore. Located near the Sto. Nino Cold Spring, visitors will be dropped off by a jeepney a mere 5-minute walk from the falls but once that hurdle has been overcome, they're now more than free to swim in the cool and clean waters of Tuasan Falls as they enjoy the beauty of nature all around them.
8. DOST-PHIVOLCS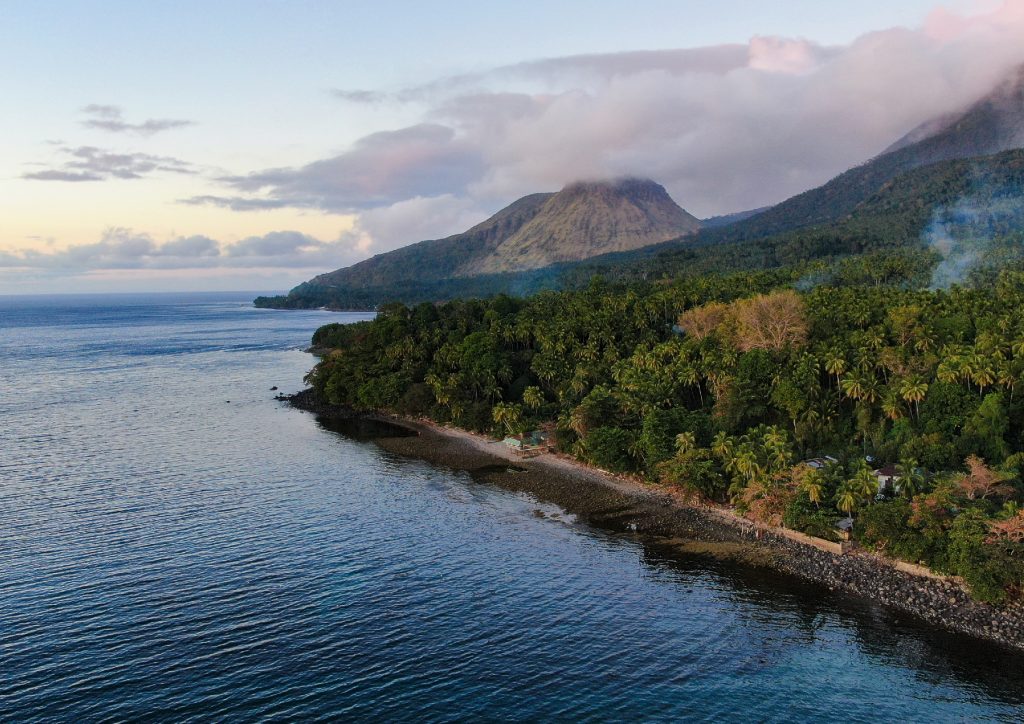 As stated before, Camiguin has seven volcanoes within its borders and as such, it's no surprise that DOST-PHIVOLCS has an outpost within the island to monitor any volcanic activity. As such, don't hesitate to pay this government facility a visit to end your trip at The Island Born of Fire where you will also see a wide panoramic view of Camiguin.
Sunlight Air will soon offer direct chartered flights from Manila to Camiguin via our all-inclusive travel bubble package. With our direct partnership with the Camiguin LGU and the island's various resorts such as Balai sa Bai Bai, Nouveau Resort, and Paras Beach Resort, visitors are guaranteed a safe and seamless travel from our private lounge in Manila to their Camiguin accommodations. Fly safely and seamlessly with Sunlight Air today! 
Check the latest Covid19 Resources
Click here to download "8 Must-Visit Places in Camiguin" PDF